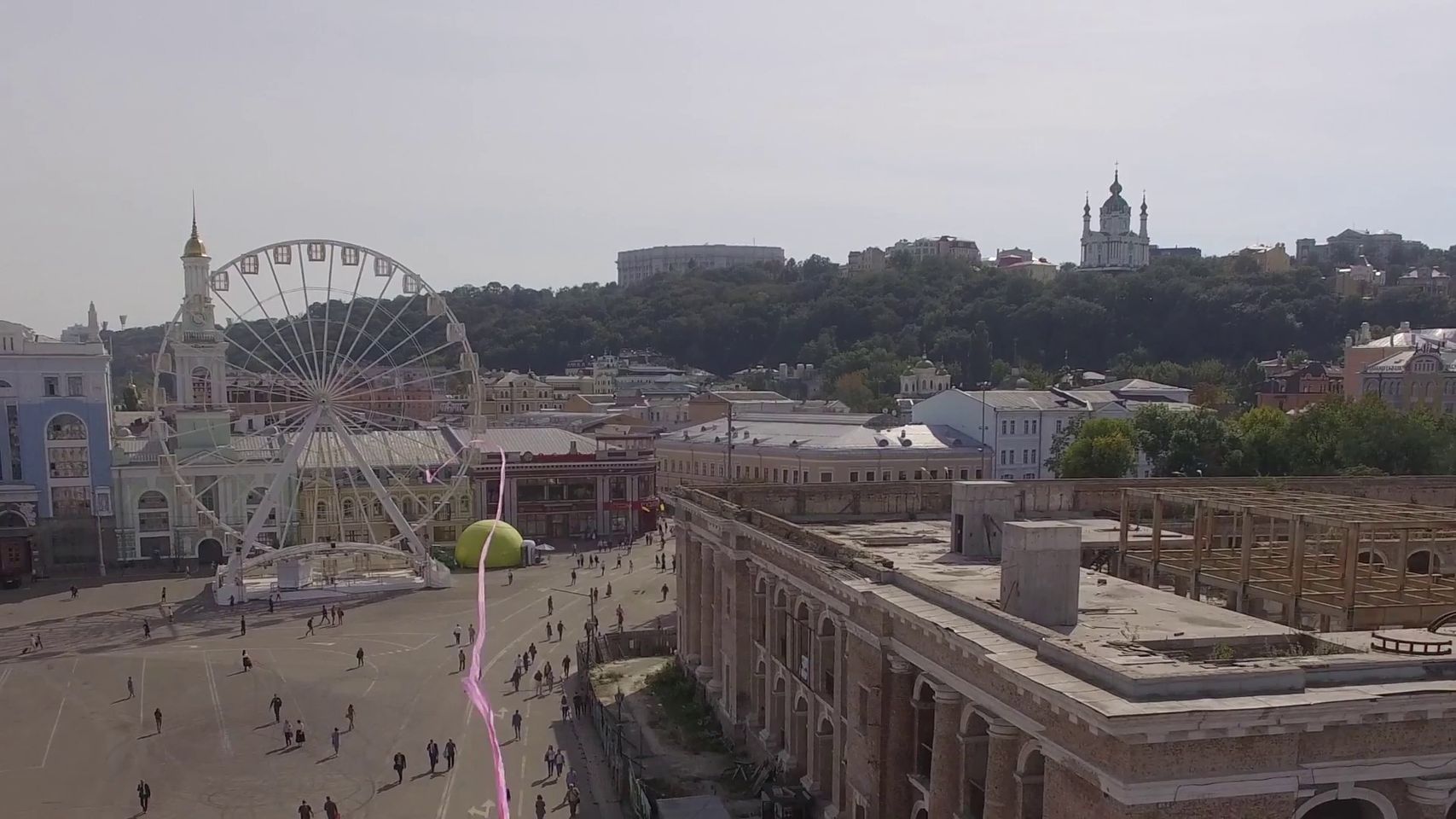 Pavel Braila
"Fragile Podil", video, 2018, 06:10 min
:::::
Filmat în cadrul unei rezidențe la Kiev din 2018 organizată de CSM / Foundation Center for Contemporary Art, video-ul "Fragile Podil" al lui Pavel Braila este una dintre cele mai delicate și puternice lucrări pe care le-am prezentat anul trecut la Camera K'ARTE. O reluăm în acest context, în fereastra galeriei, din motive evidente.
Pentru că tot ce se întâmplă acum frizează absurdul, pentru toată frumusețea și măreția acestui oraș, pentru drama cumplită prin care trec oamenii de acolo și într-un final pentru fragilitatea democrației și a libertăților noastre, vă propunem acest zbor, aproape oniric, deasupra unui Kiev liniștit dar vibrant, în care oamenii încă nu trăiesc sub spectrul morții iar copiii încă aleargă liberi și fericiți prin piețe. "Fragile Podil" ne plimbă prin văzduhul generos al Kievului antebelic (2018), acolo unde artistul înălța desene efemere în vânt, cu optimismul și încrederea pe care retorica unui război nu are cum să le înțeleagă.
"Fragile Podil" funcționează și ca un wake-up call pentru fiecare dintre noi care avem impresia că drama aceasta nu ne privește, că pacea și confortul noastru sunt puse deoparte, că noi putem să privim liniștiți cerul, fără să ne cutremurăm.
:::::
Realized in the frame of:
«4 Days on the Road»
CSM / Foundation Center for Contemporary Art
The Podil bus station was the main venue of the festival, which featured four days of exhibitions, lectures and meetings with artists who shared their experience working on artistic projects.
"Podil is a complex interweaving of streets, electric cables in the crowns of old trees, tram lines, and tired facades of buildings with a complex history. Maybe it's missing some lightness and the special feeling you get when flying in a dream? In the project Aerial Piece, a ribbon flying over iconic places in Podil draws an invisible calligraphic line, a sketch of the city in a way we have never seen it before. It doesn't leave behind any marks, only a memory of the sky above the city. Folow the ribbon as it streams through the air like time"
Pavel Brăila
(b. 1971, Chișinău, Moldova)
With the support of REEA.