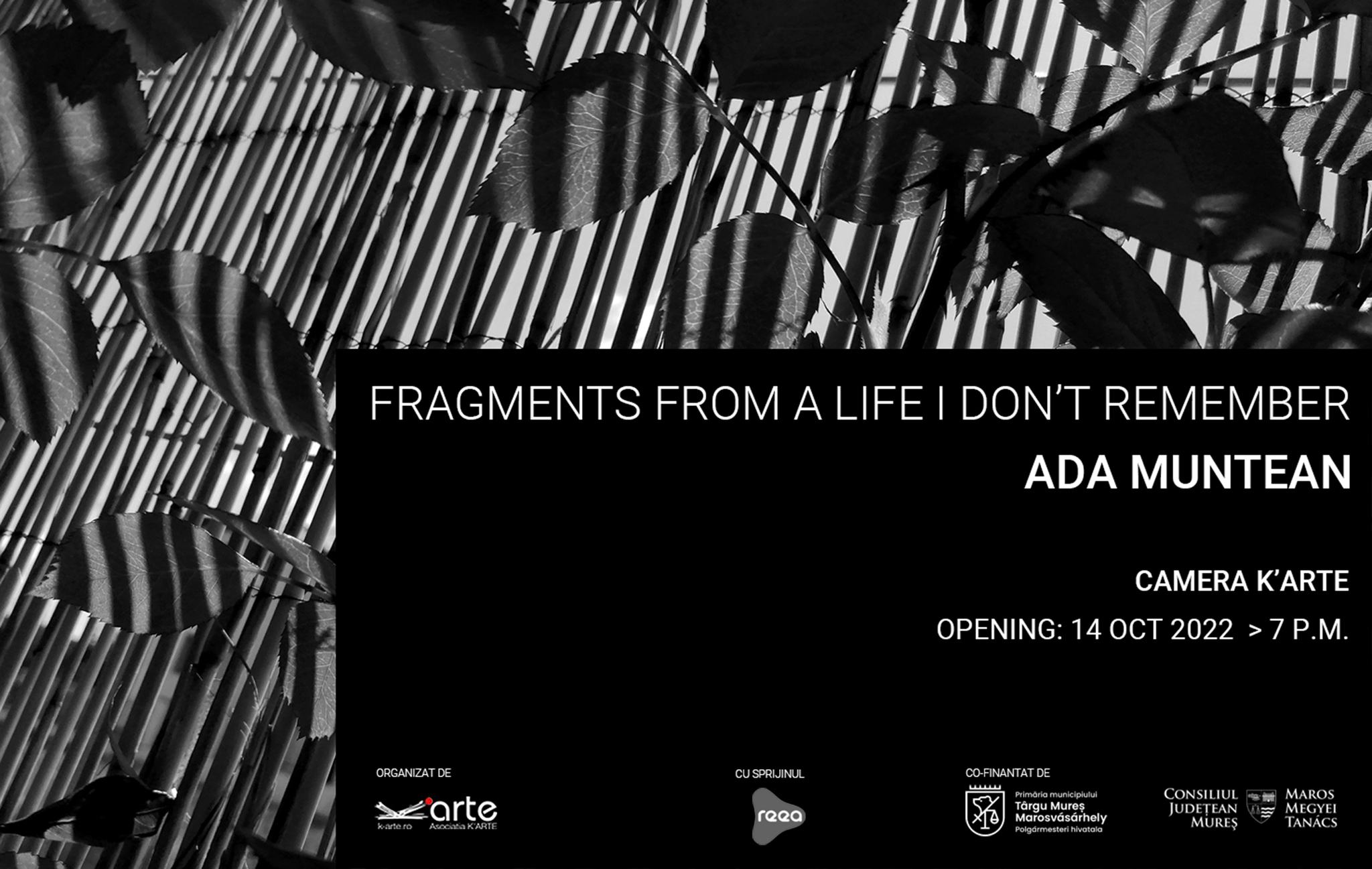 Fragments from a Life I don't Remember
Ada Muntean
@ Camera K'ARTE (Str G. Enescu nr 2)
Opening: 14 oct → 7 p.m.
RO
Fragments from a Life I don't Remember explorează ambiguitatea și caracterul fluid pe care le dobândește identitatea omului contemporan, influențată fiind de câțiva factori principali și anume: cel genetic, temporal și social. Experimentele mele vizează căutarea înțelegerii identității individuale pornind de la trecut, de la istorie, de la căutarea personală în jurul fotografiei de familie, a universului latent aflat în spatele traseului temporal dintre imagine și realul palpabil.
De asemenea, în percepția și folosirea imaginii ca instrument vizual și conceptual, se realizează o tranziție de la document – la fotografie personală realizată asemeni unui cadru cinematografic, ce face apel la o memorie personală subiectivă-relaționată cu introspecția și intimitatea. Fragments from a Life I don't Remember devine în același timp o ironie și o interogație asupra percepției vietii ca vis, într-un act de detașare rațională și emoțională asupra unor evenimente trecute, în relație cu o identitate aflată într-o continuă schimbare.
Proiectul explorează "cămăruțe" ale psihicului meu care se constituie drept fragmente de amintiri sau impresii ale unor amintiri ce vin asemenea unei inserții neasteptate, a unui smash cut în prezent pentru a-mi pune semne de întrebare în fața deciziilor pe care le-am luat, a experiențelor pe care le-am trăit, proiectându-mi mental un posibil viitor.
Înțelegerea formală și conceptuală a imaginii se realizează prin construcția, deconstrucția și distorsiunea ei formală, căutând înțelesuri în spatele cadrului fotografic. Astfel, viitorul nu poate fi proiectat fără o înțelegere a prezentului filtrat prin premisele construite de trecut.
Expoziția reprezintă o reflecție asupra sumei de întâmplări importante care ajunge să ne contureze ca oameni și a importanței fiecărui fragment de amintire care ne poate zgudui prezentul, chestionând ciclicități temporale, caracteristici identitare și nu în ultimul rând relativitatea viitorului. [Ada Muntean]
///////////
EN
Fragments from a Life I don't Remember
Ada Muntean
Camera K'ARTE
Fragments from a Life I don't Remember explores the ambiguity and fluidity of the identity of contemporary people, influenced by a few main factors like: genetics, time and society. My experiments are looking to understand individual identity starting from the past, history, a personal search around family photos, the latent universe created behind the ramble from image to concrete reality.
By using and perceiving images as visual and conceptual instruments, a transition is made from document to personal photography conceived as a cinematic frame, appealing to a personal subjective and relational memory with introspection and intimacy.
Fragments from a Life I don't Remember becomes at the same time an ironic question about the perception of life as a dream and an act of emotional and rational detachment from past events, in relation to a constantly changing identity.
The project explores compartments of my mind that constitute fragments of memories or impressions of memories, stemming from unexpected insertions, a present smash-cut made to question the decisions I have taken, the experiences I have lived, while mentally projecting a possible future.
A formal and conceptual understanding of the image is done through construction, deconstruction and, a formal distortion looking for meanings behind the photographic frame. Thus, the future cannot be projected without understanding a present filtered through the premises built in the past.
The exhibition represents a reflection over the number of important events that shape us as people and the importance of each fragment of memory that can shake our present, questioning the flow of time, the characteristics of our identity and finally the relativity of the future. [Ada Muntean]
Born in 1987, Ada Muntean lives and works in Cluj-Napoca, Romania.
She is a graduate of the University of Art and Design Cluj, with a BA and MA in Fine Arts, major Graphic Arts, and a PhD in Visual Arts completed in 2019 at the same institution. She has earned cultural exchange grants at Birmingham Institute of Art and Design (UK), Jan Matejko Academy of Fine Arts Kracow (Poland), Peckham Platform Art Gallery London and Plan B Gallery, Berlin. Her works were featured in solo shows: Réalités corporelles: des identités incertaines, French Cultural Institute, Cluj-Napoca (2021), Corporealities. Uncertain Bodies, Estopia Art Gallery Bucharest (2020), Blackout.[Follow The White Rabbit], NEW NOW art space Frankfurt (2018), SABOTAGE. Deconstructing The Unforeseen, Camera, Centrul de Interes Cluj (2018), Fluid Identity, FIVE PLUS Art Gallery, Vienna (2017), Self. Perceive/Deceive, Nano Gallery, Cluj (2017), Soft Hollow, Atelier Patru Cluj (2015), Black Fire, Museum of Art Brașov (2015), Interfaces, Visual Kontakt Ulm (2013). She took part in group shows, such as: Smash Cut, E T A J artist-run space, Bucharest (2021), Negotiating Reality, E T A J artist-run space, Bucharest (2021), Innocence, Estopia Art Gallery, Bucharest (2021); Blurred Is The New ID, Estopia Art Gallery, Bucharest (2020), Breaking (Im)possibilities, Multicultural Center of Transilvania University from Brașov (2020), Process Terminus, Sandwich Gallery project, presented at ArtEncounters Timișoara (2017), Resurrected, FIVE PLUS Art Gallery, during Vienna Art Week (2016), Small Graphic Exhibition, Romanian Cultural Institute New York (2015), Agency of Unrealized Projects, daadgalerie, Berlin (2012), POP–Pick me up Fair – Somerset House, Londra (2012). She contributed with a series of photos included in SUPERBIASuburbia Project at Romanian Cultural Institute Venice, part of the Venice Biennale of Architecture in 2010.
///////////
Expoziția face parte din proiectul "Artă contemporană în Camera K'ARTE", ed a IX-a.
Un proiect: Asociatia K'ARTE.
Cu sprijinul / With the support of: REEA.
Co-finanțat de Consiliul Judetean Mures si Primăria Târgu Mureș.
Proiectul nu reprezintă în mod necesar poziția Primăriei Municipiului Târgu Mureș și a Consiliului Local care nu sunt responsabili de conținutul proiectului sau de modul în care rezultatele acestuia pot fi folosite. Acestea sunt în întregime responsabilitatea beneficiarului finanțării.