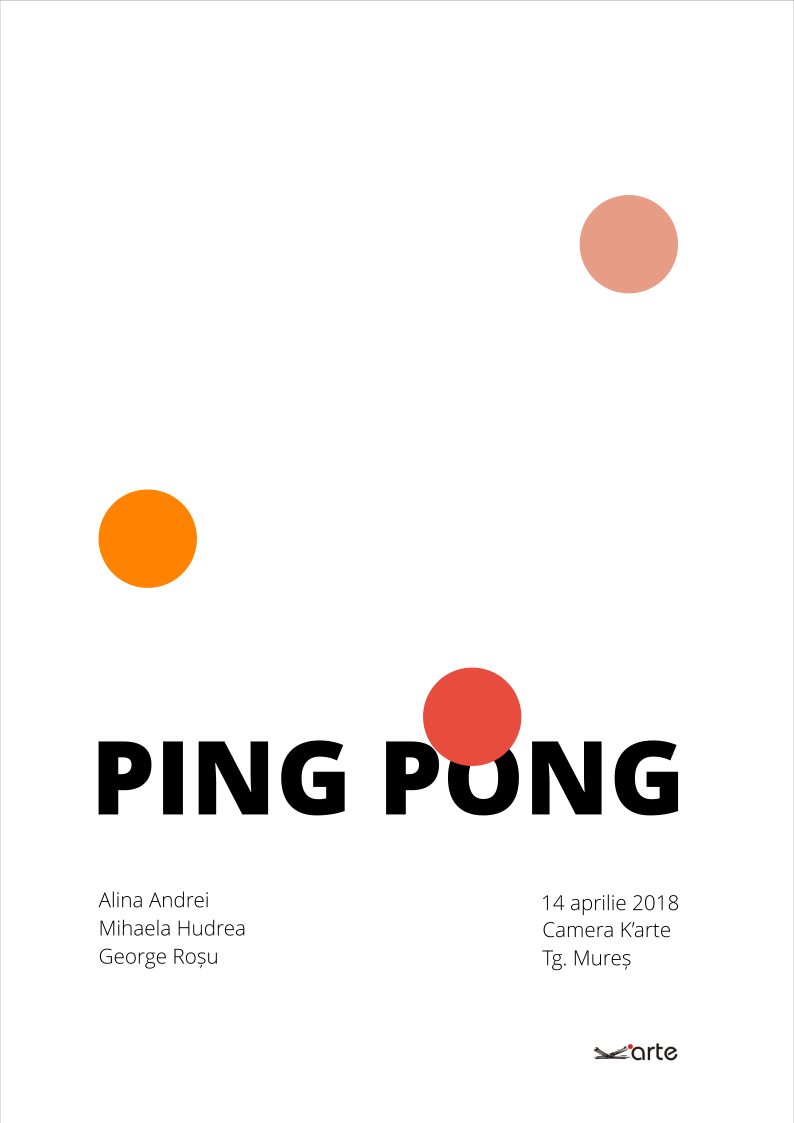 Camera K'ARTE
Tg Mureș ::::::::
14-30 aprilie 2018
"Capetele noastre sunt rotunde, deci gândurile îşi pot schimba direcţia". Ne-am început explorarea având în minte acest citat de Francis Picabia. Fără să ţinem cont de faptul că suntem extrem de diferiţi, din punct de vedere conceptual, am vrut să vedem dacă putem să facem o expoziţie împreună.
De fiecare data când ne gândeam că am ajuns la un numitor comun, lucrurile se schimbau. Jonglarea cu ideile şi schimbarea lor între noi a devenit conceptul expoziţiei – de aici şi titlul acesteia, PING Pong. Nu ne interesează sportul în sine, ţinând cont şi de faptul că ieşim din regulile acestuia – având trei jucători şi nici o competiţie -, ci ideea de a împărţi ceva, de a da ceva de la unul  la altul.  Acesta a fost ghidul pe care l-am urmat.
În expoziţie arătăm lucrări recente ce fac referire la dinamica dintre noi, ca artişti şi prieteni.
BIO
Alina Andrei (n. 1976, Braşov) fotografiază şi scrie de ani. Momentan în Cluj-Napoca, dar fotografiile sale ar putea fi de oriunde. Țin de ea, nu neaparat de locul unde sunt făcute. Uneori, când nu fotografiază oameni reali din carne și oase, foloseşte unii din hârtie. Îşi face singură personajele (cu creioane/cretă, foarfecă)  şi le fotografiază ca și cum ar fi oameni vii, cu povești reale. Oameni la fel de adevărați ca cei care trec pe stradă pe lângă ea. Publică multe din aceste imagini în fanzine (ediții limitate), în regim self-publish. De asemenea, le expune în galerii sau spaţii neconvenţionale.
Mihaela Hudrea (n. 1989, Cluj-Napoca) locuiește și lucrează în Cluj, Romania. A absolvit Universitatea de Artă și Design Cluj-Napoca în anul 2011 și studiile de masterat la KASK (Academia Regală de Arte Plastice), Gent, Belgia în 2014.
Ea se considera un ,,colecționar de lumină" și un ,,călător în timp" și este obsedată de culori și de sentimentele pe care ele le evocă. A fi un artist, un ,,călător în timp" este ceva care-i eliberează mintea, permițându-i să se scufunde în profunzime în gândurile ei și să se conecteze la lume, în timp ce își decodează amintirile ca act creativ. Estetica ei urmărește forme naive și minimaliste. Desenul conectează totul în practica ei și își descrie acțiunile ca ,,desenând cu o pensulă". Recent a început să produca obiecte abstracte pe care le consideră extensii ale desenelor. Când colectează lucruri vizuale, creează asociații intuitive. Munca ei este mai degrabă o constelație decât o progresie liniară, deoarece revine in mod constant, reconsiderând și umplând golurile.
George Roşu (n 1982) trăieşte şi lucrează în Cluj-Napoca.
Cei care desenează îl arată cu degetul reproşându-i că nu desenează ci că scrie, iar cei care scriu îi reproşează la rândul lor că nu scrie ci că desenează. George Roşu insistă, şi face asta de 20 ani.
Filtrând atât senzaţionalul cât şi banalul prin filtrele artistice reuşeşte (uneori) să aducă la lumină realităţi alternative, pe care le numeşte, simplu, poveşti fragmentate.
PING PONG
Camera K'ARTE
Tg Mureș ::::::::
April 14-30
EN
"Our heads are round so our thoughts can change direction." We started our own exploration having this quote by artist Francis Picabia in mind. Regardless the fact that conceptually we are all extremely different, we wanted to see if we can make an exhibition together.
Every time we thought we reached a common ground, things changed. Juggling with ideas and passing them from one to the other became the concept of our exhibition, from where the title PING PONG comes. It is not exactly the sport that interests us as we operate outside its rules, having three players and no competition, but the gesture of passing something from one to another. This was our guide along the way.
This show presents recent works and it makes reference to the dynamic between us, as artists and as friends.
BIO
Alina Andrei (b. 1976, Brasov) is writing and shooting stories since quite some years. At the moment she does this in Cluj Napoca, but the images can be from everywhere. It is a matter of personal touch, not necessary the (photo)shooting place. Sometimes, when she does not take pictures with real people (flesh and bone), she uses paper characters as models. All of them are hand crafted (by her) using pencils, chalkboard, scissors and all. The photos are made as they were real people, with real stories. As real as your neighbors or passers-by. Most of these photos are published in zines, small books in limited editions (Self-published) and exhibited in the contemporary art galleries and alternative spaces all around Romania.
Mihaela Hudrea (b. 1989, Cluj-Napoca) lives and works in Cluj, Romania. She completed a bachelor in graphic arts at the University of Art and Design Cluj-Napoca in 2011 and a master in drawing at KASK (Royal Academy of Fine Arts) in Gent, Belgium, in 2014.
She thinks of herself as a collector of light and a time traveler and is obsessed with colors and the feelings they evoke in her. Being an artist and a time traveler is something that frees her mind, allowing her to dive deep into her thoughts and connect herself to the world, while she decodes her memories as a creative act. Her aesthetic follows childlike and minimalist forms. Drawing is the medium that links everything in her practice and she describes her actions as drawing with a brush. Recently she started to make abstract objects which she sees as extensions of her drawings. When she collects visual things, she makes intuitive associations. Her work is like a constellation rather than a linear progression because she is constantly going back and forth reconsidering and filling the gaps.
George Roşu (b. 1982) lives and works in Cluj-Napoca
Those-who-draw point their finger at him and say he doesn't really draw, those-who-write point at him and say he doesn't really write, but George Roșu insists he does.
He filters personal records, observations, thoughts and memories through artistic portrayals, converting them into alternate realities (sometimes simply called "fragmented stories").
FOTO: Alina Andrei