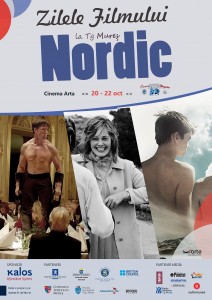 VINERI (Intrare gratuită la proiecția de la 20:30)
18:00 – Pătratul / The SQUARE (2017, 142 min, SUE, GER, FR, DAN). Palme d'Or, Cannes 2017 – sub RO
(PROIECȚIE SPECIALĂ / PREMIERĂ – Sala ARTA – 10 Lei)
20:30 – Frați / Brødre (documentar, 2015, Norvegia, 110 min) – sub EN
SÂMBĂTĂ (Intrare gratuită la toate proiecțiile)
16:00 – 1001 GRAMS (2014, Norvegia, Germania, 93 min) – sub EN
18:00 – Searching for Sugar Man (documentar, 2012, Suedia, Marea Britanie, 86 min) – sub RO
20:00 – The Other side of hope (2017, Finlanda, 98 min) – sub RO
DUMINICĂ (Intrare gratuită la toate proiecțiile)
16:00 – The girl who saved my life (documentar, 2016, Suedia, 82 min) – sub EN
18:00 – White People / Det vita folket (2015, Suedia, 82 min) – sub EN
20:00 – Cea mai fericita zi din viata lui Olli Mäki (2017, Finlanda, 98 min) – sub RO
Zilele Filmului Nordic se va desfășura la Cinema Arta din Târgu Mureș, între 20-22 octombrie 2017.
Evenimentul debutează, în sala Arta, cu o proiecție specială – Pătratul / The SQUARE, în regia suedezului Ruben Östlund, filmul care a câștigat Palme d'Or, Cannes 2017. Proiectul continuă cu o selecție de filme nordice ce include și câte un documentar important în fiecare zi dar și filme multi-premiate în ultimii ani, precum "Cea mai fericita zi din viata lui Olli Mäki" (Un Certain Regard la Cannes 2016) sau "The Other side of hope" (Ursul de argint la Berlin 2017).
Organizator: Asociația K'ARTE
SPONSOR: Kalos Information Systems
PARTENERI: Consiliul Judetean MUREȘ, Primăria Municipiului Tîrgu Mureș, Ambasada regală a Norvegiei, Ambasada Suediei la București, Ambasada Finlandei la București, British Council, Independeța Film, Voodoo Films.
Parteneri media: Zi de zi, OutinMures, Cuvantul Liber, Zile si Nopti, Radio Romania- Tg Mures, Punctul, Nepujsag.