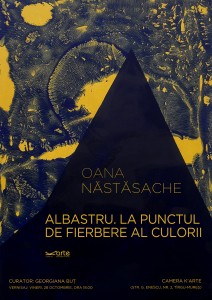 Artist: Oana Năstăsache
Curator: Georgiana Buț
Vernisaj: vineri, 28 Octombrie, ora 18:00
CAMERA K'ARTE
(str. G. Enescu nr. 2, Târgu-Mureș)
Fascinația Oanei Năstăsache față de albastru e contagioasă. Această culoare – una care a dus o existență faimoasă și seducătoare de-a lungul istoriei artei, variindu-și nuanțele într-o plajă largă de semnificații, între spiritualitate și "odele" feministe ale masculinității – a devenit o prezență mercurială în arta ei.
Lucrările prezentate în această expoziție au fost create între 2014 și 2015, în secvențe recurente de cercetări intense în căutarea expresiei picturale sub vraja albastrului. S-a ajuns la un punct de fierbere, care se traduce prin vâscozitatea ca de lavă a culorii incandescente pe măsură ce irizează multe dintre abstracțiuni.
Forța lor de atracție poate fi asociată echilibrului fin dintre mișcarea iluzorie, profunzimea spațială vibrantă și formele geometrice plane care ni se înfățișează răspicat, ca semne constante că pânza este în primul și ultimul rând o suprafață, în ciuda aparenței unui câmp magnetic generat. Nu surprindem nici un element compozițional predominant, doar tensiune creată cu mare atenție. Oana pare a ne permite cu parcimonie o secundă de ambiguitate acolo unde percepția senzorială domină conștientizarea aparenței și virtualul invadează materialul. Și chiar în clipa în care ne acomodăm cu acest tărâm al imaginației, intrigați de jocul intim dintre linii, forme și culori, ea ne trage imediat înapoi, ca și cum ar spune "nu, nu, aceasta e doar pânză, vopsea și tehnică; ești doar om, carne și os, cu simțuri lesne de înșelat…"
Oana Năstăsache (n. 1991, Galați) trăiește și lucrează în Cluj-Napoca. În practica sa artistică, ea este mereu în căutarea coerenței prin intermediul unei geometrii rafinate și așezate cu meticulozitate, a improvizației gestuale și a hazardului liber, elemente adeseori situate într-un contrast plin de energie. Lucrările sale au fost expuse în muzee de artă în Cluj și Galați. A făcut parte din expoziții de grup, ca de pildă: "StartPoint Prize Romania 2015", Centrul de Artă Victoria, București (iunie, 2015); "Rumble in the Jungle", Galeria Casa Matei, Cluj (aprilie, 2015); "Wild Awake", Lateral Art Space, Fabrica de Pensule, Cluj (martie, 2015); "Group Exhibition", expoziție de apartament, Berlin (iunie, 2014). Lucrările sale au fost de asemenea expuse la ArtSafari, București (mai, 2015).
Georgiana Buț este curator independent și specialist în PR cultural. În prezent, este doctorand al Departamentului de Filosofie în cadrul Universității Babeș-Bolyai din Cluj-Napoca. Cercetarea ei este concentrată pe expoziția de artă contemporană ca mediu conceptual pentru practica artistică. A fost coordonator de comunicare și programe al Fundației Culturale Intact și al Galeriei Quadro; activitatea sa curatorială include expoziția "Pulse, within the Veil" (artiști: Alex Mirutziu/RO, Izabella Gustowska/PL,  Anastasiia Mikhno/UA, Cristina Chirilă/RO, Doru Butz/RO), Casa Tranzit, Cluj, mai 2011.
Expoziția este deschisă până duminică, 20 noiembrie 2016.
Program de vizitare:  luni-vineri, între 15:00-18:00.
Cu sprijinul: Primaria municipiului Târgu Mureș, Consiliul Județean Mureș, cotidianul Zi de zi.
<>
EN
Blue. At the Boling Point of Color
Artist: Oana Năstăsache
Curator: Georgiana Buț
28.10 – 20.11.2016
Oana Năstăsache's fascination with blue is infectious. This color – one that has lived a notoriously alluring life throughout the history of art, varying 'nuances' as distant as those of spirituality along side the ironic feminist 'odes' to masculinity – has become a mercurial presence in her practice. The works featured in the exhibition were created between 2014 and 2015, in recurring sequences of intensive search for pictorial expression under the spell of blue. It has reached a boiling point, which translates into the lava-like viscosity of the searing paint suffusing many of her abstractions.
Their arresting power can be pinned down to the fine balance between illusion-like movement, vibrant spatial depth and the flat geometric shapes facing us bluntly, like constant reminders that the canvas is first and foremost a surface, almost in spite of its apparent magnetic field. Also, there is no predominant compositional feature here, only carefully studied tension. Oana seems to be barely allowing us that second of ambiguity when sensory perception dominates the awareness of appearance, and the virtual invades the material. And just as we are comfortably entering the realm of imagination, titillated as we are by the intimate play of lines, shapes and colors, she immediately pulls us out, as if saying: "no, no, this is mere canvas, pure paint and technique; and you are just human, flesh and bone, with easy to deceive senses…"
Oana Năstăsache (b. 1991, Galați) lives and works in Cluj-Napoca. In her artistic practice, she is in constant search for coherence by means of refined, meticulously laid down geometry, gestural improvisation, and open hazard, often in energetic contrast. Her work was exhibited in art museums in Cluj and Galați. She was part of group shows such as: "StartPoint Prize Romania 2015", Victoria Art Center, Bucharest (June 2015); "Rumble in the Jungle", Galeria Casa Matei, Cluj (April, 2015); "Wild Awake", Lateral Art Space, Fabrica de Pensule, Cluj (March, 2015); "Group Exhibition", apartment show, Berlin (June 2014).
Georgiana Buț is an independent curator and PR specialist for art institutions based in Cluj, Romania. She is currently a PhD student at the Department of Philosophy, Babeș-Bolyai University Cluj, with research focusing on the contemporary art exhibition as a conceptual medium for artistic practice. She has served as Communication and Programs Coordinator for Intact Cultural Foundation and Galeria Quadro, Cluj.